Slide 3
• Special design GPS, GLONASS and Satellite Phone Systems located in the 1.5GHz L1 band
• Blocking for GPS L1 and /or all or selected GLONASS channels
• Blocking for Thuraya, Iridium and Globalstar satellite phones.
• Operational Logging within unit
• Task configuration via PC application (USB port).
• Bidirectional remote control options (USB, RS232, TTL).
ECM608-S15 Electronic GPS Countermeasure Unit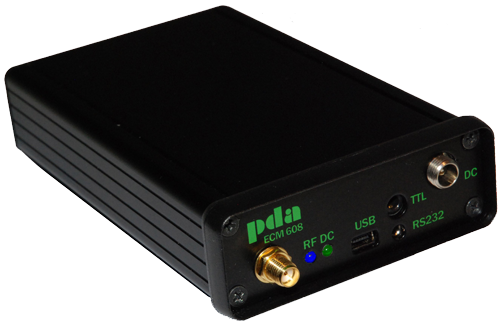 ECM608-S15
Electronic GPS Countermeasure Unit
The ECM608-S15 is a small portable unit that is designed to secure areas against specific satellite channels. ECM608-S15's radiating power can be adapted to local propagation conditions and type of antenna used for its application.
Operation is simple: Download configuration and power on to activate the unit. The indicator LEDs show operational and power status. Individual configurations allow tailoring of the ECM608-S15 to best fit for its task, for best support of your application.
Configuration
Connect your ECM608-S15 via Micro-USB cable to your PC.
The ECM608-S15 application allows you to set it up for your task. You can select blocking frequency range, RF output power and remote control. On "save" the actual configuration is stored inside your ECM608-S15 and used on every power on.
Operation
Power your ECM608-S15 via DC connector (7 to 18V) or USB (5V). It loads the stored configuration, calibrates and operates within milliseconds. Two LEDs show current operation status. The green LED indicates power supplied and internal status. The blue LED follows RF output. It alights whenever an RF signal is generated.
Antennas (internal and external)
The standard unit comes fitted with an antenna connector for an external antenna and an internal directional patch antenna (tuned for frequencies from 1450 -1750Mhz).
The external SMA connector can be selected as an alternative to the internal antennas by software command
1525.0 – 1559MHz (downlink) or 1626.5 – 1660.5Mhz (uplink)
1610 – 1626.5 (uplink)
2483.5 – 2500.0Mhz(downlink) (if downlink blocking required use a standard ECM608)
-40 dBm (0.1µW) to 20 dBm (100 mW) in 1dB steps