Slide 3
• Covers all (2G), (3G), (4G), (5G) and WIFI frequencies
• WIFI at 2.4Ghz + WIFI at 5GHz
• Transmits up to 12 channels simultaneously
• Adjustable power for each frequency band into antenna
• Special Near Field Antenna providing non polarised output distributed evenly over complete foam analysis surface on Antenna unit
ECM712 Portable Faraday Cage Unit for Forensic Analysis Applications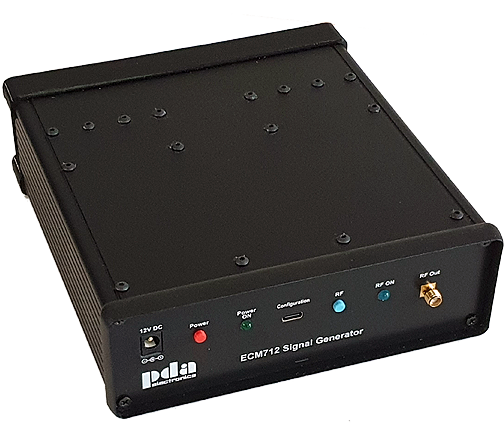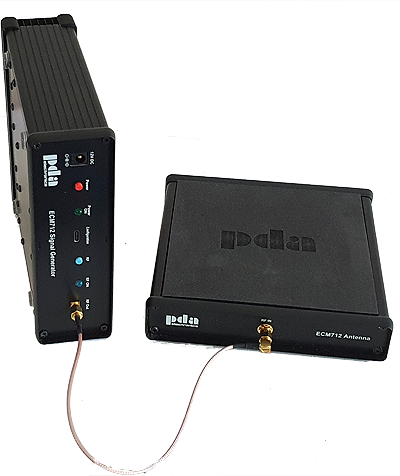 ECM712 Portable Faraday Cage Unit for Forensic Analysis Applications
The ECM712 is a small portable unit designed to be used for the safe forensic analysis of cellular devices such as phones or tablets.
Twelve independent countermeasure transmitters are connected to a special near field antenna (NFA) to provide a localised non polarised isolation field evenly above the lid area in effect creating a virtual hemispherical Faraday Cage.
This allows the analysis of both phones and tablets without the fear of remote interference over cellular networks or nearby WIFI sources. The characteristics of the NFA cause the isolation signals to reduce rapidly with distance so beyond the stated bubble sizes there is no interference with adjacent devices.
The transmit power of each transmitter can be individually reduced to suit the operational environment which in turn will reduce the exclusion zone area. Once the desired the parameters have been set, they are stored within each unit. The user now simply powers up the unit and all transmitters will function according to the options that have been set.
Operational modes and functions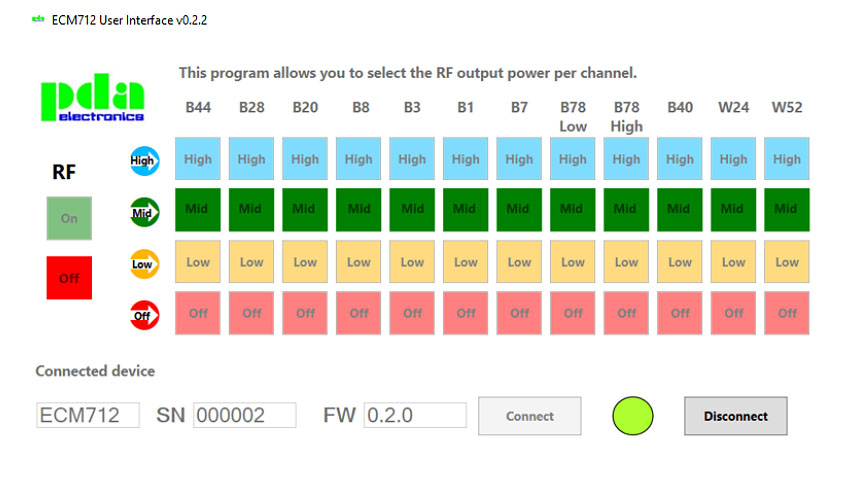 The main control panel software allows the user to select which transmitters are active and the power level attributed to each transmitter. Full power allows the unit to be used outside in new locations where the strength of the mobile signals are unknown. In lab environments the power can be reduced, especially open office areas, to prevent interference with nearby staff who may need to use their mobile phones.
When the transmitters are set to max the Faraday bubble extends approximately 5 metres from the antenna. This setting can also provide a cellular and WIFI isolation area to small meeting rooms without impacting other nearby rooms.
Another application, allows a technician to define and set the most appropriate RF values for the Lo, Med, and Hi settings antenna
Bands
28
20
8
3
1
WIFI 24
7 + 38
Band 78 Lo
Band 78 Hi
WIFI 52
Band 40
Band 44
default settings (MHz)
758 – 803
791 – 821
925 – 960
1805 – 1880
2110 – 2170
2405 – 2485
2570 – 2690
3410 – 3600
3600 – 3800
5150 – 5350
2350 – 2400
700 – 760
Optional Frequency Bands
5G Low band
4G 800 band
2G EGSM+3G (O2 and Vodafone)
GSM1800 +LTE1800 EE and O2 LTE
3G UMTS
WiFi channels 1-14 +Bluetooth
4G Urban
5G
5G
Standard setting covers Channels 36-48
LTE 2300 (O2)
4G and 5G
Low: +10dBm (10mW) *
Mid: +20dBm (100mW) *
Max:+30dBm (1000mW) *
* level can be adjusted by software
1 metre Low setting
2 metres Mid setting
5 metres Max setting
The ECM712 can provide a countermeasure signal over the whole 2.4GHz and 5Ghz WIFI supported by phones and tablets.
External 12VDC power supply via 2.5mm power jack
Total consumption at full power on all 12 transmitters – 8 Amps
Range for normal operation: -10 to +50°C.
Antenna Enclosure: 160 x 185 x 31mm
Weight: 410 gm
Signal Generator: 160 x 185 x 52mm
Weight: 1046 gms