Slide 3
• Covers all GSM(2G), UMTS(3G) and LTE(4G) frequencies
• WIFI at 2.4Ghz and /or Bluetooth
• Transmits up to 6 channels simultaneously
• Adjustable power for each frequency band into antenna
• Special Near Field Antenna providing non polarised output distributed evenly over complete foam analysis surface
• Light weight –less than 2.5kg
• Optional external 8 way Signal Distribution Unit-allows multiple antennas to be supported from a single ECM701M
ECM701M Portable Faraday Cage Unit for Forensic Analysis Applications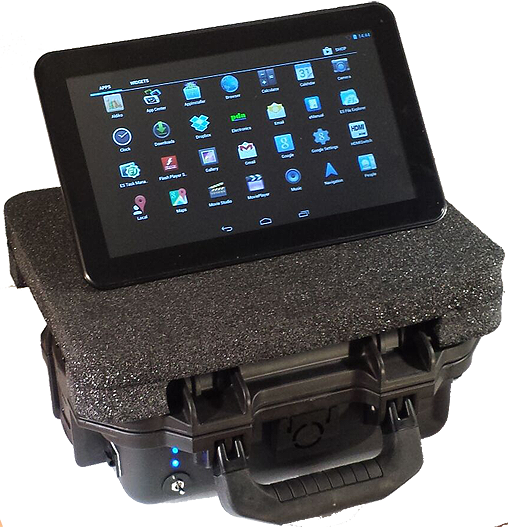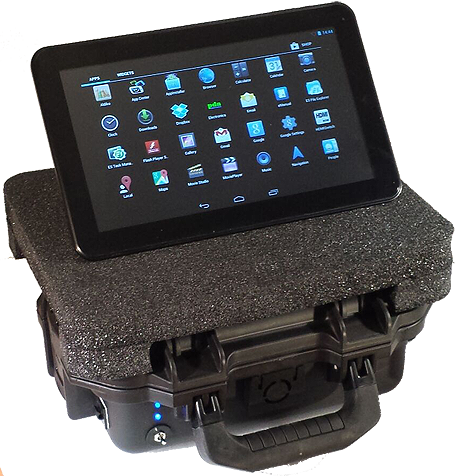 ECM701M Portable Faraday Cage Unit for Forensic Analysis Applications
The ECM701M is a small portable unit designed to be used for the safe forensic analysis of cellular devices such as phones or tablets. The unit can operate using an internal battery for over 6 hours making it suitable for applications in the field. For longer periods an external 12VDC power source can be used.
There is a special near field antenna (NFA) in the lid to provide a localised non polarised isolation field evenly above the lid area in effect creating a virtual hemispherical Faraday Cage. This allows the analysis of both phones and tablets without the fear of remote interference over cellular networks or nearby WIFI sources. The characteristics of the NFA cause the isolation signals to reduce rapidly with distance so beyond 1metre there is no interference with adjacent devices. The characteristics of each transmitter module is programmed via a special app running on a Windows based PC.
Once the desired the parameters have been set, they are stored within each unit. The user now simply powers up the unit and all transmitters will function according to the options that have been set. The internal log monitors all changes to the configuration. The application software also contains a program which facilitates remote diagnosis of each unit via the internet which obviates the need to return the unit when software updates are required.
Operational modes and functions
The operational parameters for the unit are programmed in using the special Windows application.
The two integral countermeasure units are programmed separately via the USB sockets on the front panel.
The App has a small database of national variations so when the specific country is selected the operators and frequencies allocations are displayed. The database can be enhanced on request.
Unit 1 Bands
GSM /UMTS low
GSM /LTE1800
UMTS 2100
default settings (MHz)
925-960
1805-1877
2110-2170
Total Range (MHz)
800-1000
1700 -2000
1900-2500
Optional Frequency Bands
GSM850/900 UMTS850/900
GSM1800/1900 LTE1700/1800/1900
UMTS 1900/2100 LTE 2300 WiFi /Bluetooth 2.4GHz
Unit 2 Bands
LTE800
LTE2600
WiFi / Bluetooth
default settings (MHz)
791-821
2620-2690
2400-2480
Total Range (MHz)
725-875
2450-2725
1900-2500
Optional Frequency Bands
LTE700/800
LTE2600/2500
UMTS 1900/2100 LTE 2300 WiFi /Bluetooth 2.4GHz
-20dBm to +10dBm per transmitter (adjustable in 1dB steps)
10mW per band – 60mW (maximum)
230mm x 300mm (suitable for tablets up to 12 inches)
The ECM701M can provide a countermeasure signal over the whole WIFI range including Channel 14 (2.435GHz) which can be used by some WIFI bugs. The unit can also be set to specific bands or an individual channel.
Provides a 1metre exclusion area at and above the top working surface
Size: 241 x 190 x 108mm (External) Weight: 2.5kg (including the 5Ah battery)